12V LCD Air Compressor for PCP Air Rifle Scuba Tank Auto Stop Version
Buyer Attention :
If sent from China, There may be import taxes, taxes that are not included in the item price, or shipping fees. these fees are the buyer's responsibility.
We will declare a lower amount for you to avoid higher taxes,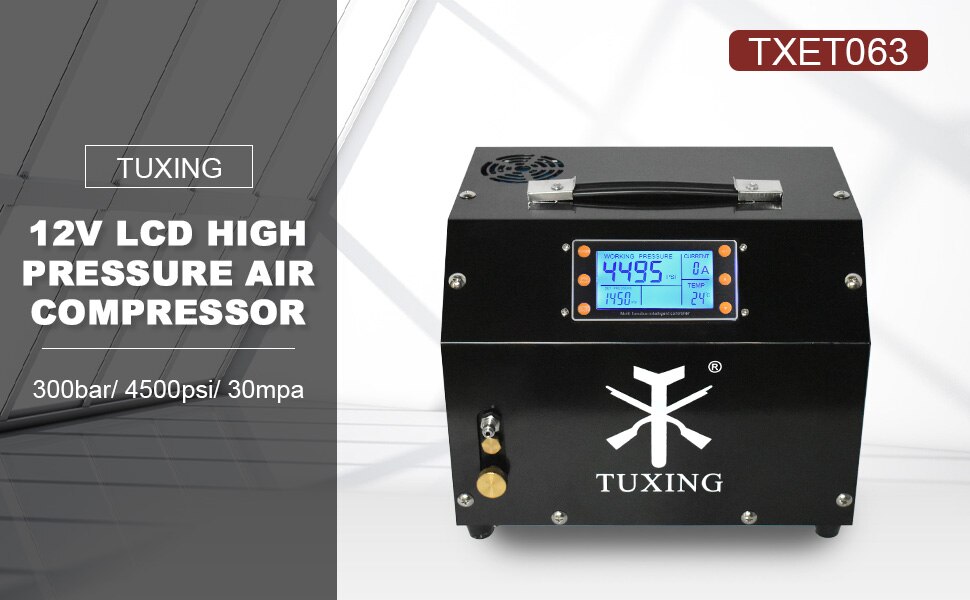 TXET063 is a 12V LCD Air Compressor. It has Digital control. It is portable , light weight, small size, easy to carry,working pressure of 300bar/4500psi/30mpa with oil and water free,built-in fan cooling and drain system.
TXET063 is a multi-function integrated digital display, easy to use and operate, more intelligent, the compressor will display the working pressure, preset pressure, temperature, current.
① Preset pressure function: After setting the pressure, the compressor will automatically shut down when it reaches the pressure you set.
②Over temperature protection: After setting the temperature, the compressor will automatically shut down when it reaches the temperature you set.
③Overcurrent protection: After setting the current, the compressor will automatically shut down when it reaches the current you set.
④Pressure unit: it will use Bar/Psi to display pressure during work,
⑥After shutting down, the fan will continue to cool down, so that the compressor can achieve better cooling effect.
⑦Built-in transformer:The PCP air compressor boasts a built-in transformer, and it is integrated with the switch power supply. It is very convenient to fill your PCP air gun or paintball tank anywhere.
⑧For various uses:The PCP pump is suitable for PCP air rifles, air pistols, paintball guns, and HPA tanks. It can efficiently filter oil and water in the air and output clean and dry high-pressure air.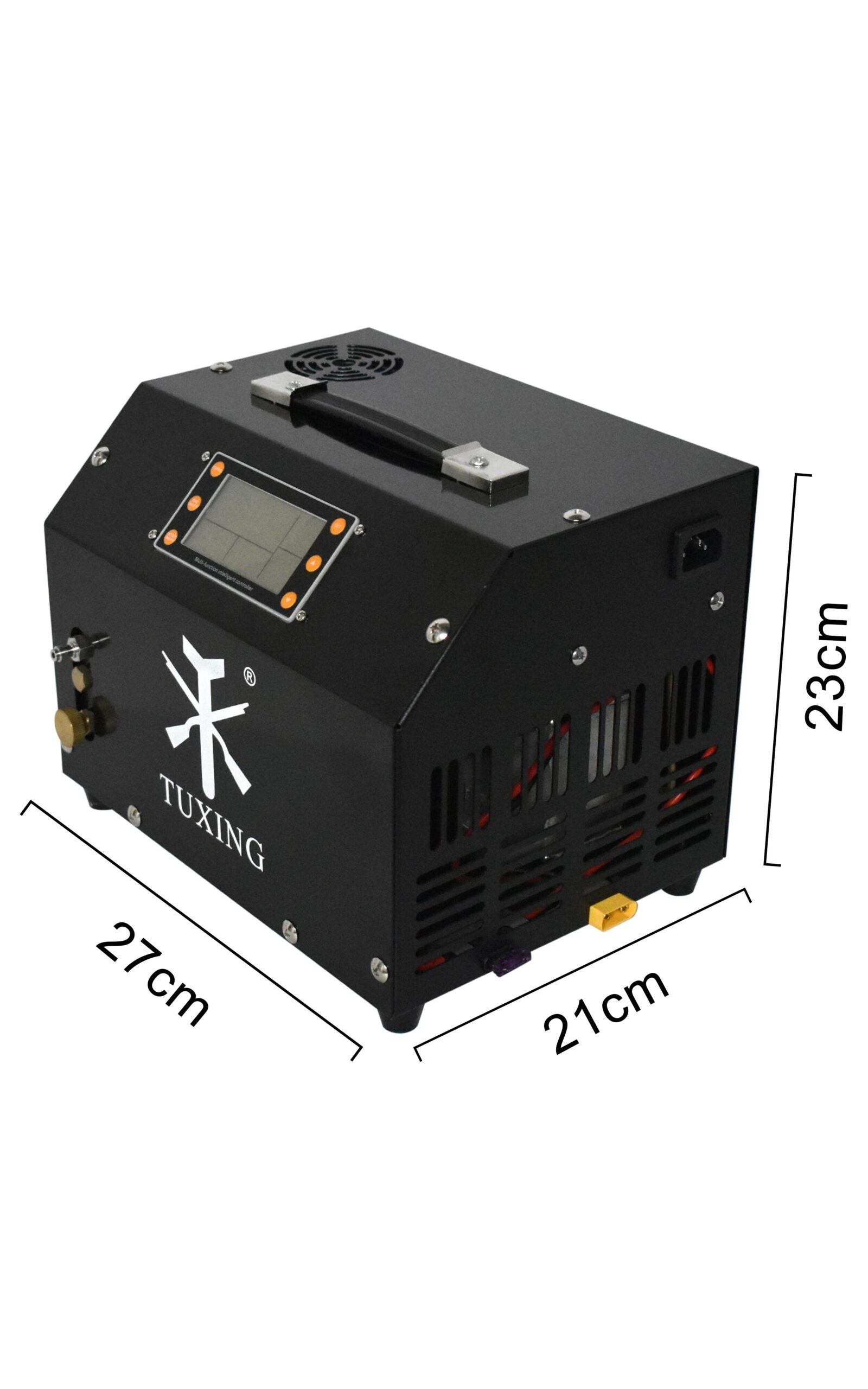 LCD Digital Control Portable PCP Air Compressor
TXET063 is a LCD digital control portable compressor,light weight,small size, easy to carry,
It is suitable directly for nipples of PCP air rifles/pistols and paintball tanks. It is very convenient to fill your PCP air gun or paintball tank anywhere.
PCP Air Compressor

Set-Pressure & Auto-Stop

LCD Digital Control & Cooling Fan

Built-in Power Adapter
Specification
Model:TXET063

Item size: 27*21*23cm

Weight:9.5kg

Voltage: 110V 220V AC/12V DC

Power: 300W

Working Pressure: 30MPa/300Bar/4500Psi

Compression Stage: Two-stage reciprocating

Shut Down: Set Pressure auto stop

Cooling: Fan cooling

Lubricating Oil: Oil-free

The LCD Control Panel
The working pressure, current, temperature, output pressure, compressor power and fan power combined into one system. The pressure, current and temperature is settable. When the working pressure reach the setting pressure, the panel will turn into red color as warning.
The advanced Compressor

It is a high-tech compressor with automatic pressure control by the microcomputer technology.

Support many voltages power supply

220V/110V/12V Portable convenience,

It can be directly powered by a 12V car battery

Oil-water separator

The built-in oil water separator to make the high pressure air more pure
Spiral Tube


The spiral air tube to increase heat dissipation rate during operation

Built-in Fan Cooling


The built-in high-power fan can greatly improve cooling efficiency and make the compressor fill your air gun.

Built-in converter 220v/ 110v


Support both household power supply and car battery driven power supply
Oil Water Separator


Oil water Separator,8 mm quick connector,which can be quickly connected and disconnected.

Purge valve


Two air release screws, first in the front of compressor and
second on the bottom of it to purge the extra oil and water.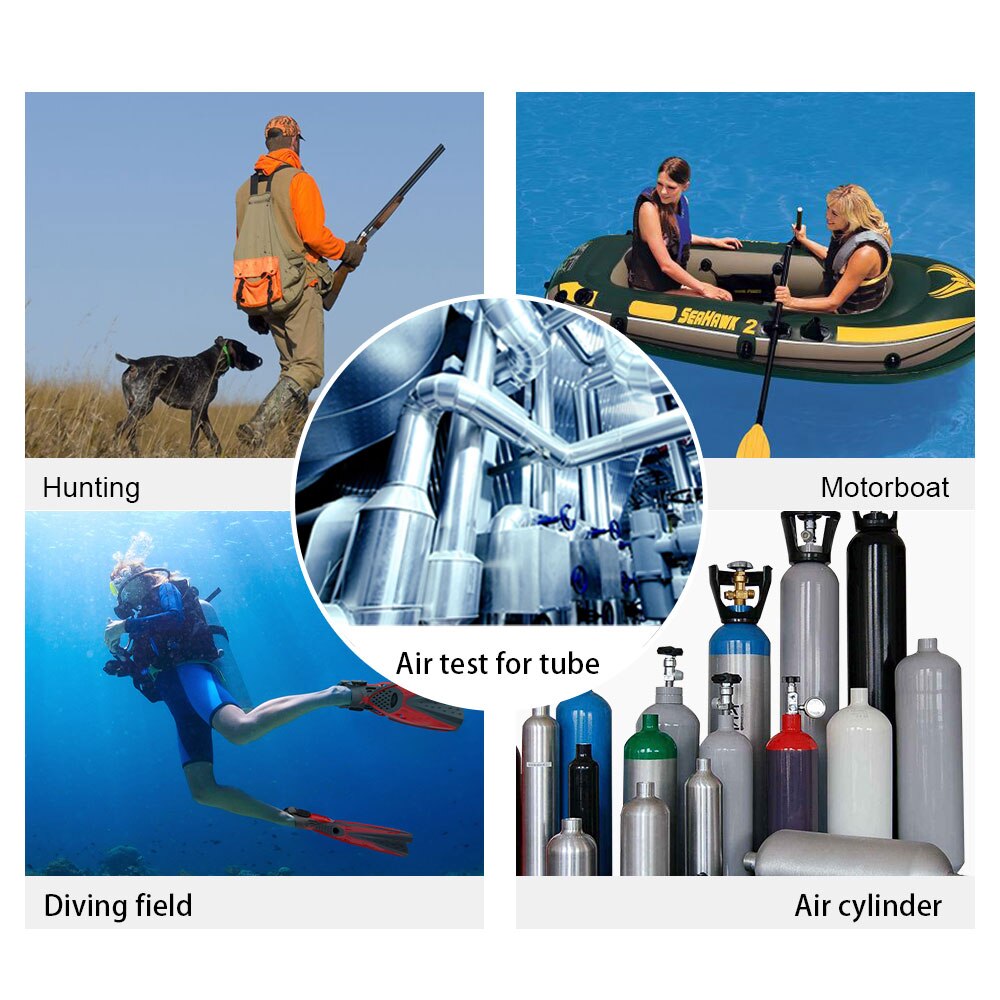 Various Use

Our portable PCP air compressor is designed with three secure devices: an adjustable pressure gauge, bleed valve and bursting disc, which make the compressor more secure. Perfectly suitable for PCP air rifle, paintball tank, mini diving bottle, etc.
Package contents of 12V LCD Air Compressor:
1 x PCP Air Compressor

1 x Car Power Line

1 x Home Power Line

1 x Oil/Water Separator
1 x Filter Cotton
1 x Air Outlet Hose
1 x Repair Kit(vulnerable parts)