40mm LCD Digital Pressure Gauge 450psi/30atm Mini 3V Battery Supply Manometer With RS232 USB
Applications: This Digital Pressure Gauge 450psi/30atm can be used for:
◢ Used for measuring copper Stainless steel non-corrosive gas, liquid pressure
◢ Medical equipment
◢ Pneumatic equipment、 auto maintenance equipment etc.

Electrical Specification:

Power supply: internal 3VDC battery supply or external 5~12VDC or power supply or PC-USB supply
Work current : Max 10mA
Output impedance : Max 300Ω
Output type : RS232
Color: white/black
Package:1 pc Digital Pressure Gauge 450psi/30atm
Work specification:
Pressure range :0~450psi/35 atm(optional)
Overload pressure: 1.5 range
Static accuracy: (0.5%FS)2 (model)
Cycle life :20 million time
Work environment
Working temperature range:-20℃ — +85℃
Compensation temperature range :-20℃ — +55℃
Storage temperature range:-20℃ — +60℃
Mechanical feature
Measurable medium ceramics, 304 stainless steel, neoprene compatible gas liquid medium
Dimension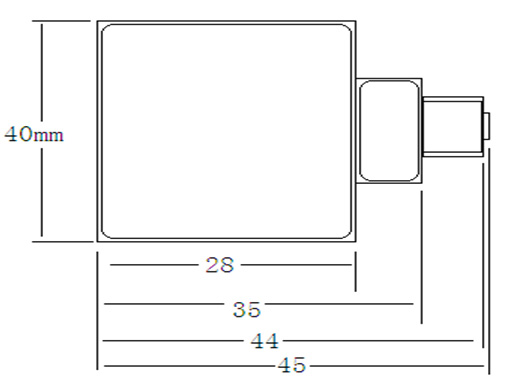 Operating instruction:
1、 Buttons define: On, Psi/atm
2、 Startup & Shutdown define: Standby mode press ON then boot, in boot state long press ON for about 5s to turn it off and ON the pressure change, automatic shutdown to enter standby mode.
3、 Backlight define: in the boot state, press any key backlight, 10 seconds backlight off no pressure change.
4、 Unit conversion define in the boot state, press psi/atm key, unit changed from psi and atm
(Note:atm is 1 atmosphere meaning 1Kg/mm2)
5、 Reset function set :in the boot and gauge pressure is 0.0atm,press psi/atm key about 5s,pressure gauge will auto display"000"zero reset,but not recorded in the register, turn it off when they will return to the factory default .
6、 Outrange warning function define: when measuring the pressure gauge is greater than the range of 1.1 times the outrange alarm appeared "Err" character, bad pressure is 2 times the rated range.
7、 Power supply :internal and external power supply function ,internal is 3VDC battery supply(230mA/h),external is 5~15VDC power supply.
8、 Communication function with RS232 communication function, factory will supply the electronic document communication parameter and testing software、operation parameters 、data packets